Awards and recognition within the industry are always highly sought after. Through the years our products have been globally recognized and awarded for their design and innovation. We're proud to be leading the way in AV & meeting room solutions!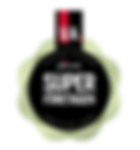 Evoko – a Super Company for the 6th year in a row!
Evoko Unlimited AB is one of Sweden's most successful businesses in 2020 according to the well-known business magazine "Veckans affärer" and the Business Information Company Bisnode Sweden. To be listed, the companies are required to fulfill very high standards in terms of growth, profitability and return on equity. We are very proud to be on this list for the 6th year in a row!