The room booking software license gives you access to Evoko's software-based tools and services for rooms
All prices are recommended prices and excluding freight and handling costs, VAT, sales tax, import costs, duties/tariffs and any other local taxes/fees. Prices are subject to change without any prior notice.
Included apps and services
Floor plan editor to create, update and upload floor plans
Book and check-in with QR-codes
Integration with Microsoft 365
Works great together with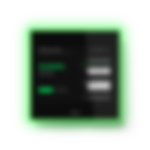 Makes it easy to find and book a free space to have a meeting. Place it outside any collaboration space to get rid of double bookings, confusion and interrupted meetings.